Tipps
Web 2.0 Projekte
Online-Communities, Webbasierte Software, Schnittstellen und Internetauftritte
Haben Sie den Aufbau oder Erweiterung eines Portals oder Online Community geplant? Oder kommt Ihr Portal an seine Leistungsgrenzen? Dann kontaktieren Sie uns. Wir beraten Sie gerne und unterstützen Sie bei der Realisierung.
Domainregistrierung
Kostengünstige DNS Services und Domainregistrierungen,
-verwaltung und TLD-Strategie
Mit einem Leistungsspektrum von über 240 internationalen Top Level Domains (TLD) gehört gretler intermedia zu den wenigen Domaingrosshändlern, die Ihnen alle Leistungen aus einer Hand anbieten.

Wir bieten Ihnen die Aufnahme Ihrer DNS Einträge auf unseren Nameservern.
ots-News: English
SIC and euroSIC: Secure Swiss Finance Network (SSFN) protects more critical infrastructures (PHOTO)
21.06.2022 | 11:00 Uhr
| Ressort: | Quelle:
Presseportal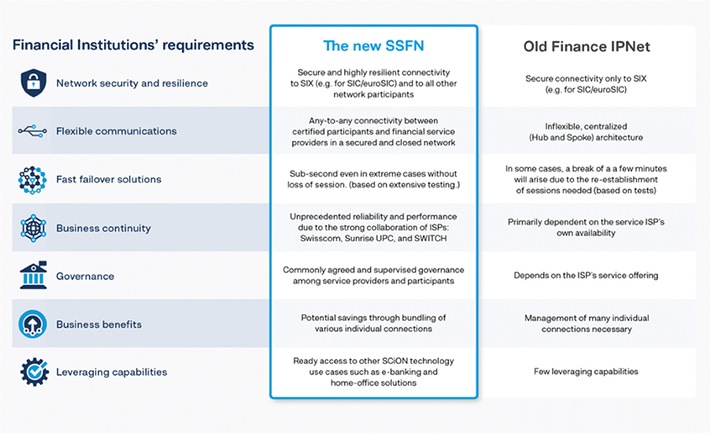 Advantages SSFN / More information via ots and www.presseportal.ch/de/nr/100082819?langid=2 / Editorial use of this picture is free of charge. Please quote the source: "obs/Anapaya Systems AG"
Zurich (ots) -
The Swiss National Bank (SNB) and the financial market infrastructure provider SIX launched the Secure Swiss Finance Network (SSFN) in November 2021 in close cooperation with the telecommunications companies Sunrise, Swisscom and SWITCH as well as the SCiON software provider Anapaya Systems. The SSFN is based on SCiON technology and offers the Swiss finance industry more flexibility, functionality and increased cyber security. Since 1 June, the interbanking transactions of the payment systems SIC and euroSIC have also been integrated into the SSFN. This means that in Switzerland alone, transactions amounting to CHF 300 billion per day can be better protected against instability and cyberattacks, which strengthens the Swiss financial centre internationally.
The Swiss Interbank Clearing (SIC) system operated by SIX requires secure and stable connections and is one of the most critical financial infrastructures in the industry. As of this month, the Swiss National Bank is using the SSFN to connect to the productive SIC and euroSIC systems, demonstrating its leadership and confidence in the network it helped build.
SSFN is a self-contained network that is even more resilient than the existing Finance IPNet communication network. SSFN provides superior connectivity and resilience that enables flexible financial market infrastructure (FMI) communications between market participants. It protects against major internet risks such as Distributed Denial of Service (DDoS) attacks and thus strengthens the cybersecurity of the Swiss financial centre as a whole. Gradually, other services such as the SECOM securities settlement system or ATM monitoring (electronic monitoring of cash equipment) will also be available via the SSFN, replacing the current Finance IPNet.
The financial industry has started the migration process of its interbanking payment traffic in cooperation with its network infrastructure experts. As all adjustments are made at the network level, end users of business applications will not feel any impact of the migration.
Fritz Steinmann, Senior Network and Network Security Architect at SIX on SCiON: "Extensive testing under extreme conditions has proven the reliability and resilience of the infrastructure enabled by the path control and inherent multipathing properties of a SCiON-based network architecture. This level of reliability and resilience is a huge improvement to ensure business continuity for current and future systemically important use cases and applications not only in the financial sector, but also for other critical infrastructures."
***
About SIC / euroSIC
SIC is one of the leading real-time gross settlement (RTGS) systems in the world and processes millions of transactions worth over 300 billion Swiss francs every day. SIC is therefore of great importance for a smoothly functioning Swiss financial centre. euroSIC ensures Swiss participant banks a fast and cost-effective real-time connection with all financial institutions in the EU and the EEA. Conversely, euroSIC enables EU/EEA banks to process euro transactions easily and efficiently with Swiss euroSIC participants. Further information at: https://ots.ch/PudHvv
About Anapaya
Anapaya Systems AG is a Swiss company whose goal is to build an international ecosystem that provides SCiON-based services for more reliable, secure and stable networks. Our solutions provide organisations around the world with a way to securely and transparently transport confidential business data over the network and send information between company sites, trusted partners and cloud providers. Anapaya Systems AG is located at Hardturmstrasse 253 in Zurich, Switzerland, and is represented by Martin Bosshardt (CEO) and Samuel Hitz (CTO). https://www.anapaya.net/
Contact:
Contact Marketing & Communication: Leah Ladines, ladines@anapaya.net